Cornhole For Camp 2019: Sun, swishes,
and the Long Toss sizzler
More than 100 people attended the Cornhole For Camp fundraising tournament on Saturday, April 27, at Triple C Brewing Company in Charlotte. It turned out to be a perfect spring day for a cornhole competition.
The 28 teams, the 17 sponsors (a record!) and attendees raised over $10,000 for our Send a Camper to Camp fund. "That amount will help pay for two cabins of campers and will improve the lives of at least 12 adults with developmental disabilities," said Dick Sesler, founder of Camp Blue Skies.
Stanley Lewis and David Benfield, playing on the Board Sharks team for Fairfield Chair Co., a Title Sponsor, won the $500 Grand Prize and championship medals. This year, we added a consolation prize for the winner of the Losers Bracket. Teammates Charles Sheard received a Triple C swag bag and Brandon Cook received $25 (since he wasn't 21).
The big sensation of the day came at the end with the Long Toss competition. Players got three bags/attempts for $5. They moved back two feet with each successful toss (meaning bag through the hole). Charles Sheard won with a 38-foot toss. His prizes were $100 and a $25 gift card from Triple C Brewing Co., an in-kind sponsor. Special shout-out to superstar volunteers Claire Bingham and Macy Daves who worked the Long Toss – without breaks – from 2 to 4 p.m. Claire also volunteers at our camps and serves on the Camp Blue Skies Foundation Board of Directors.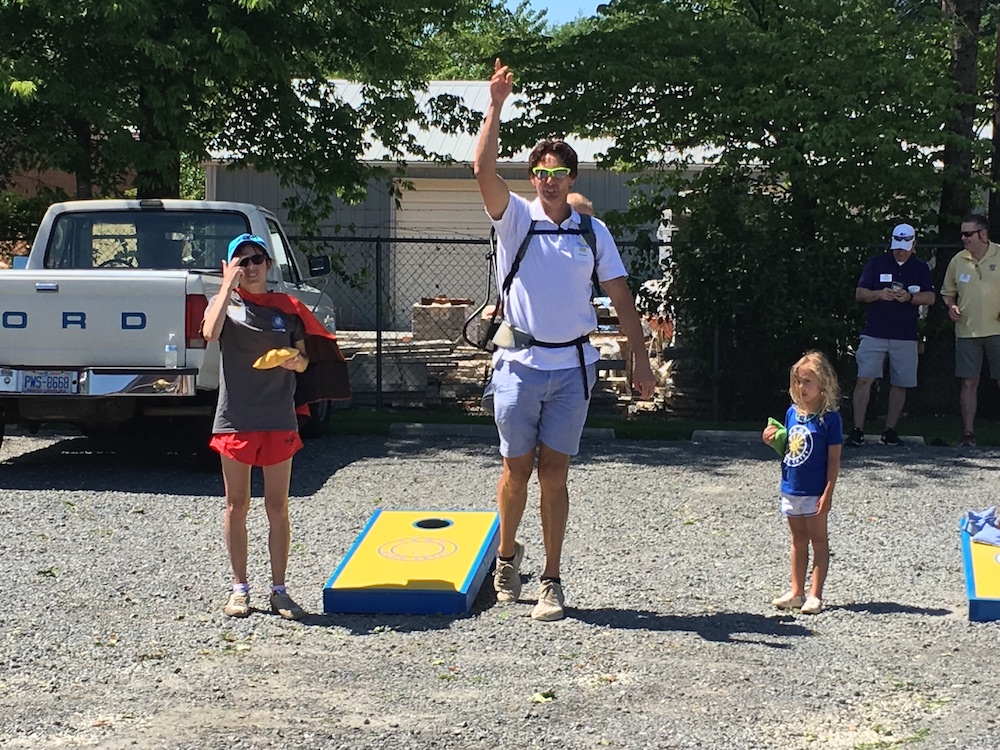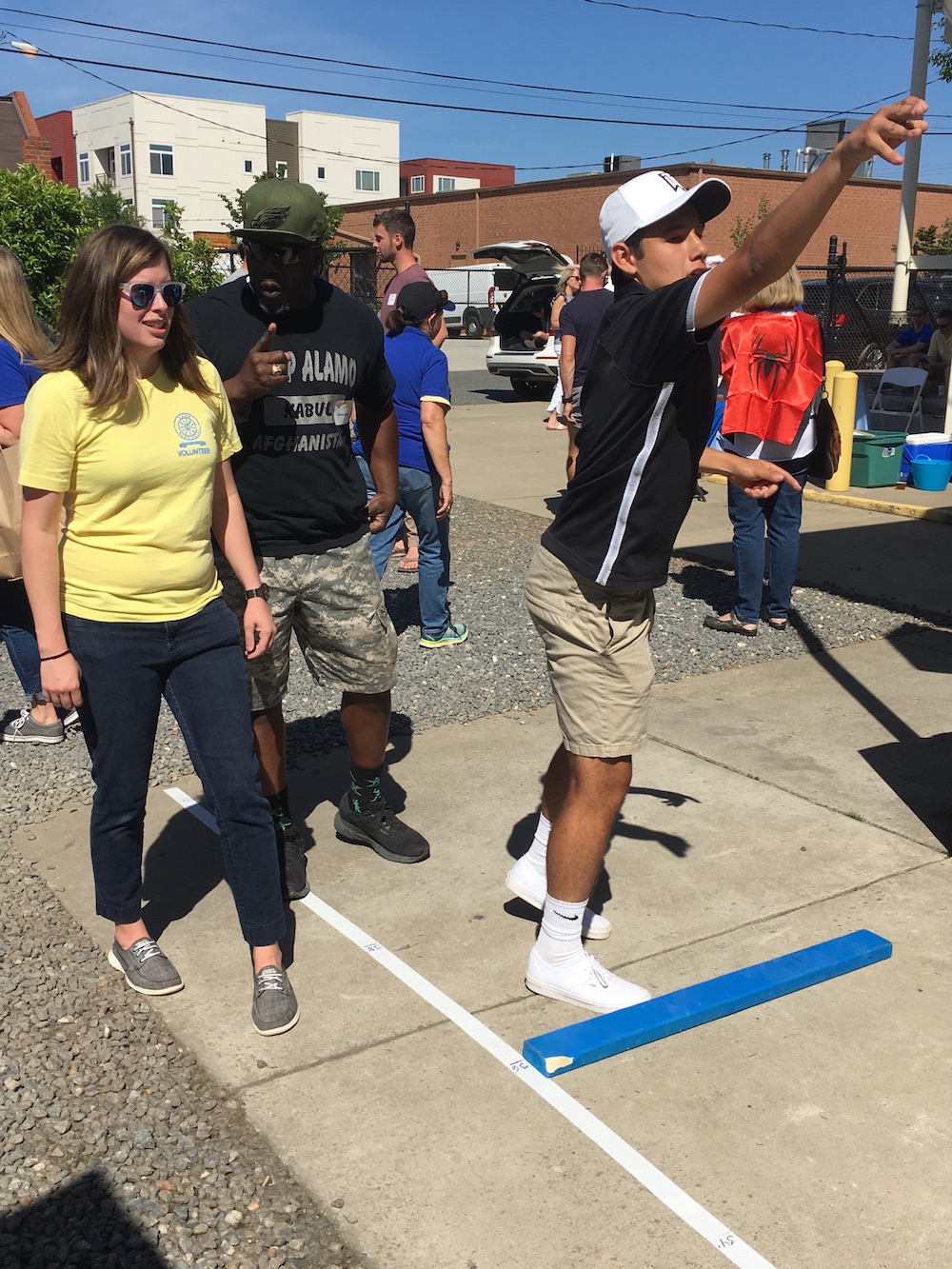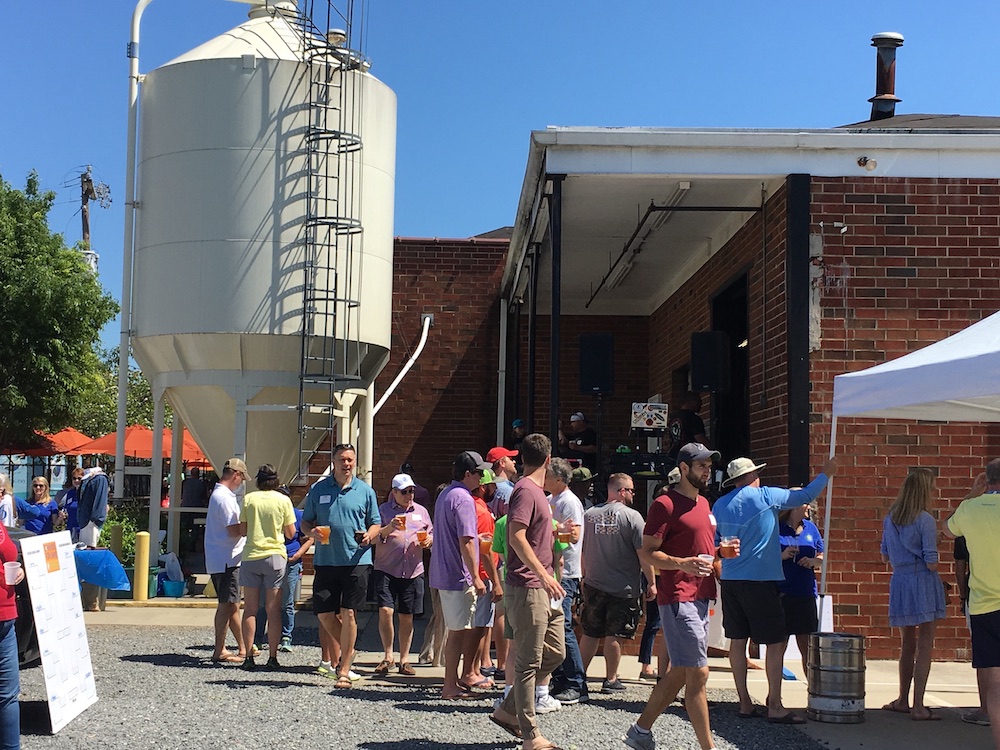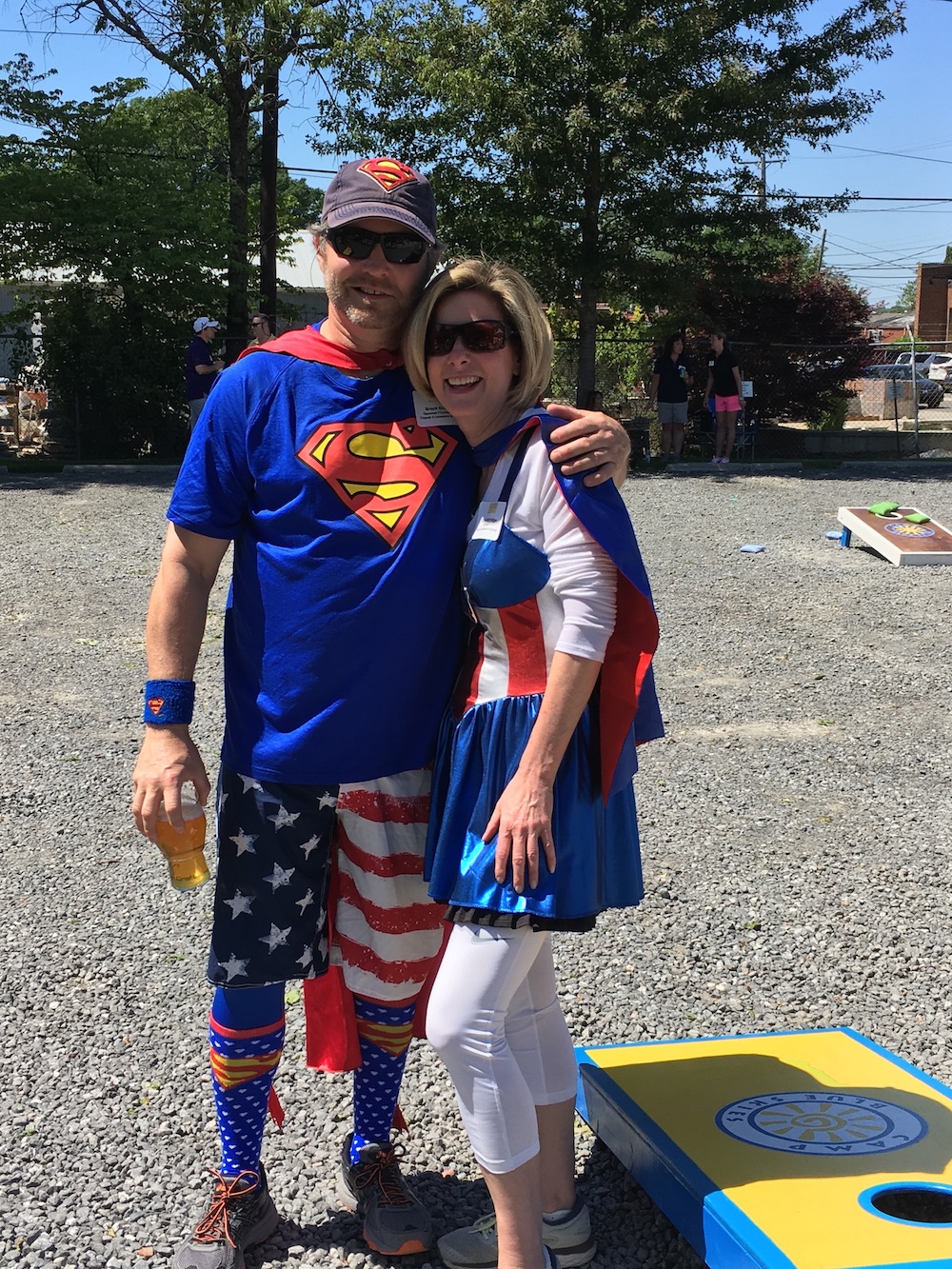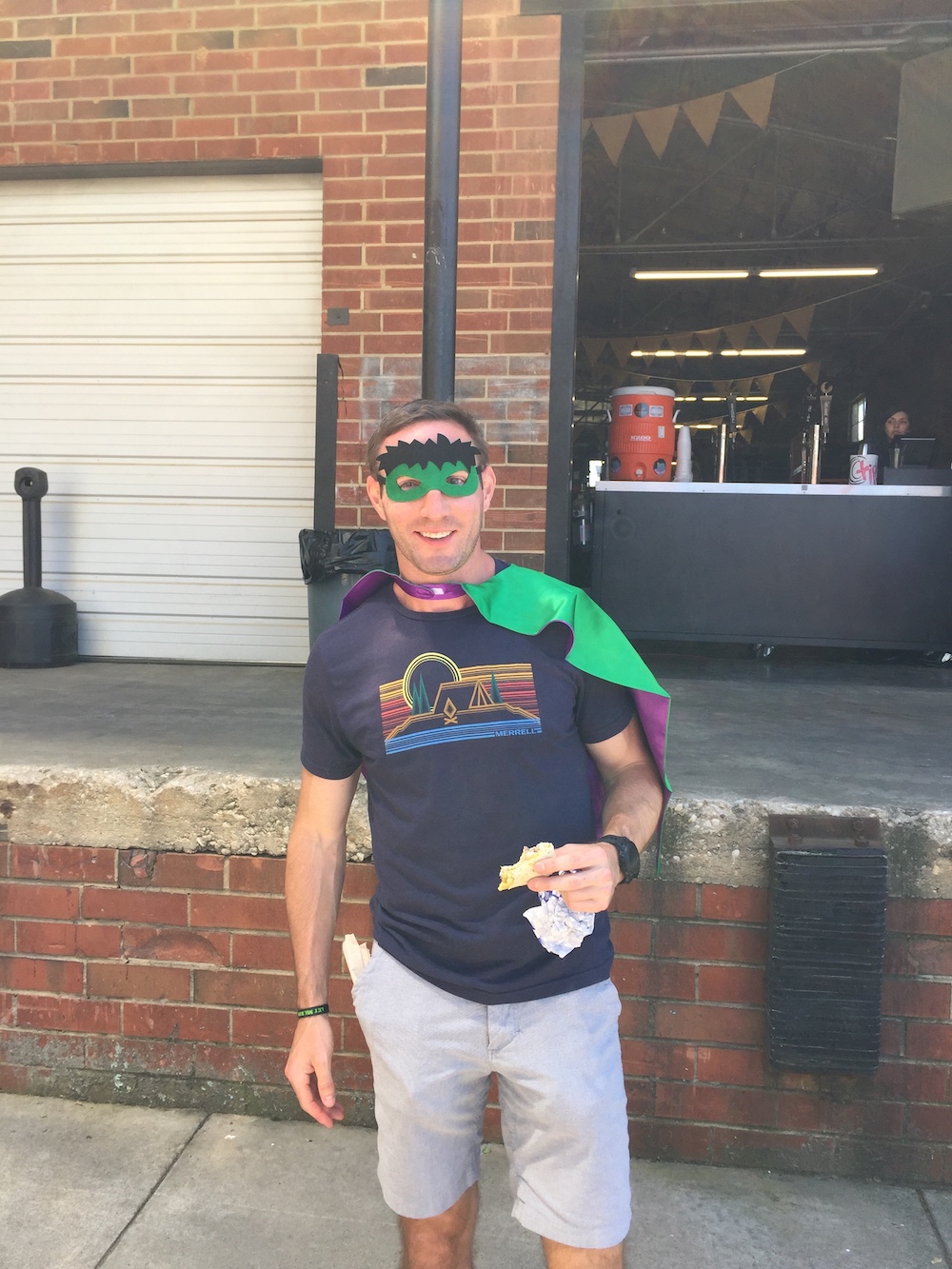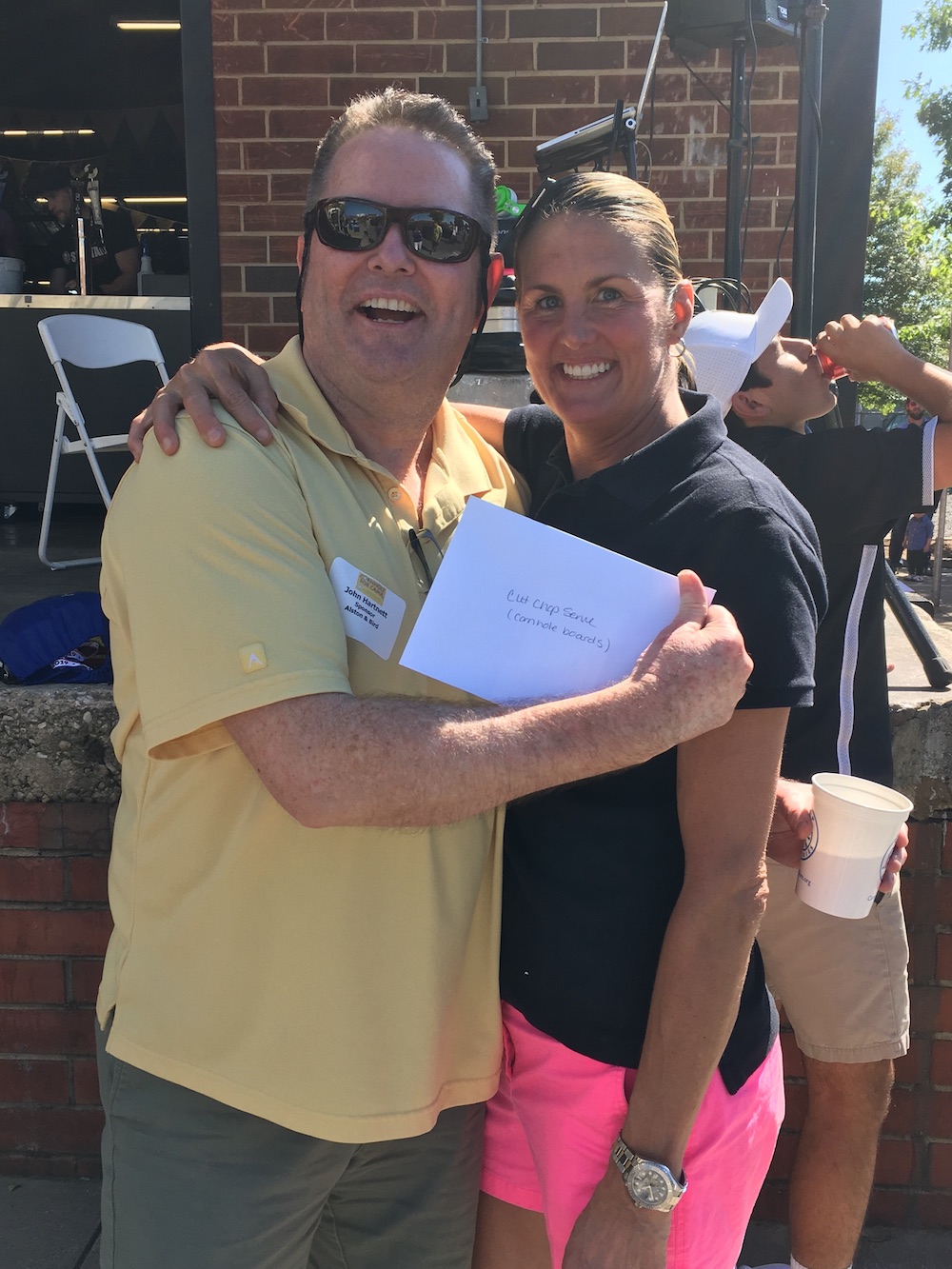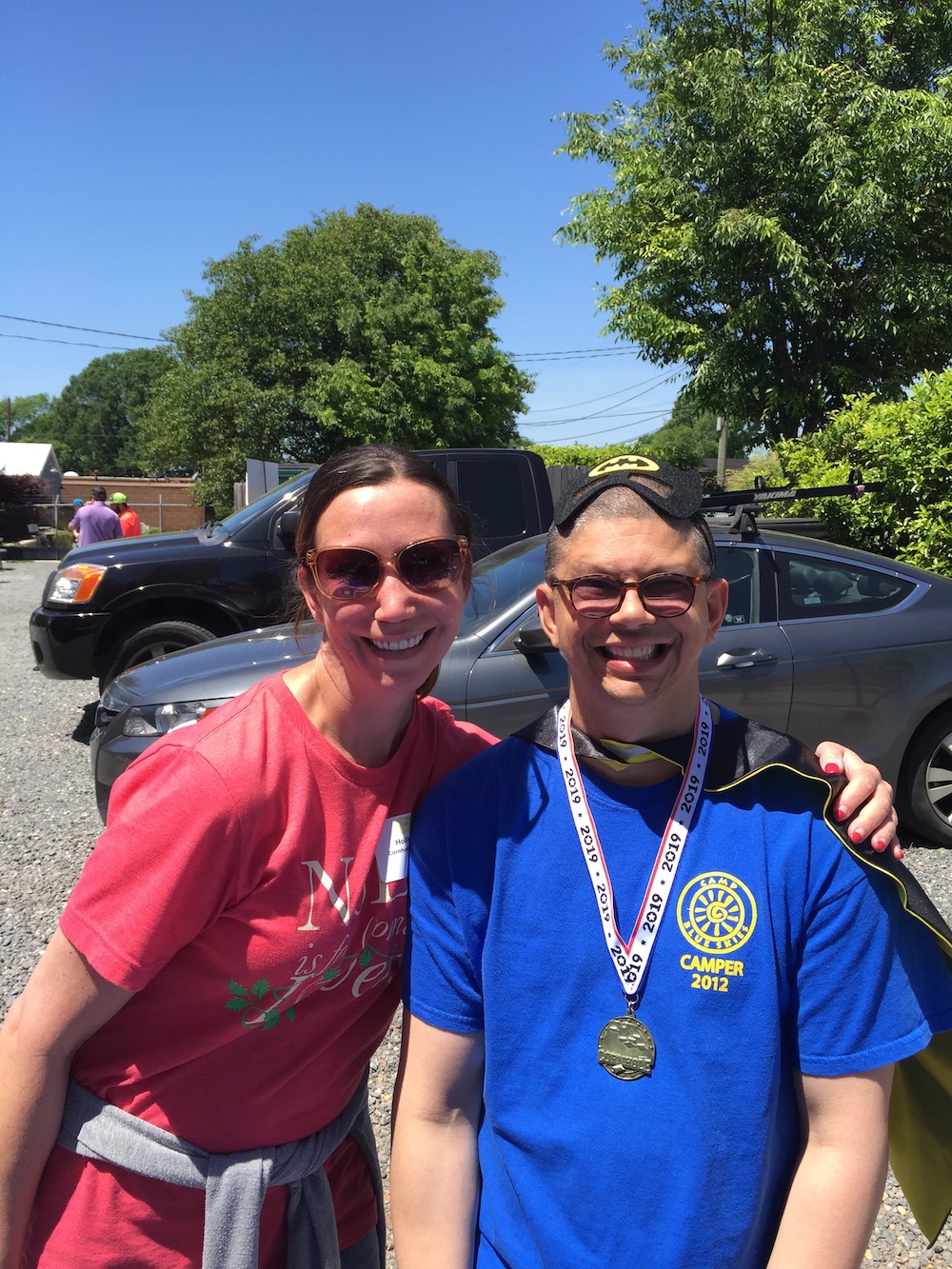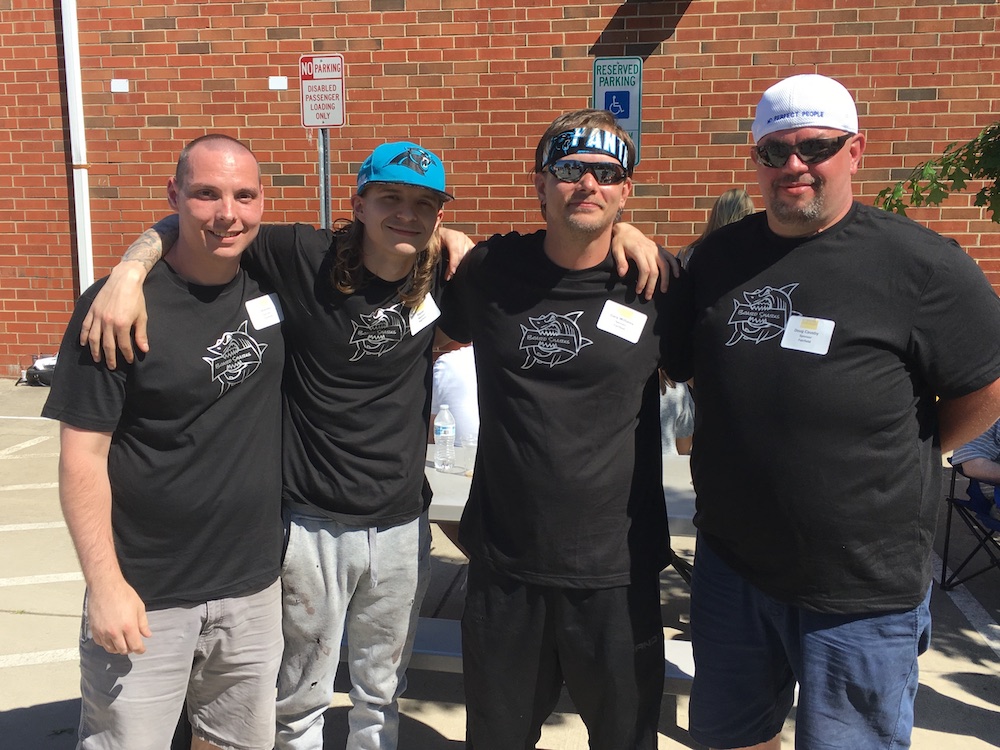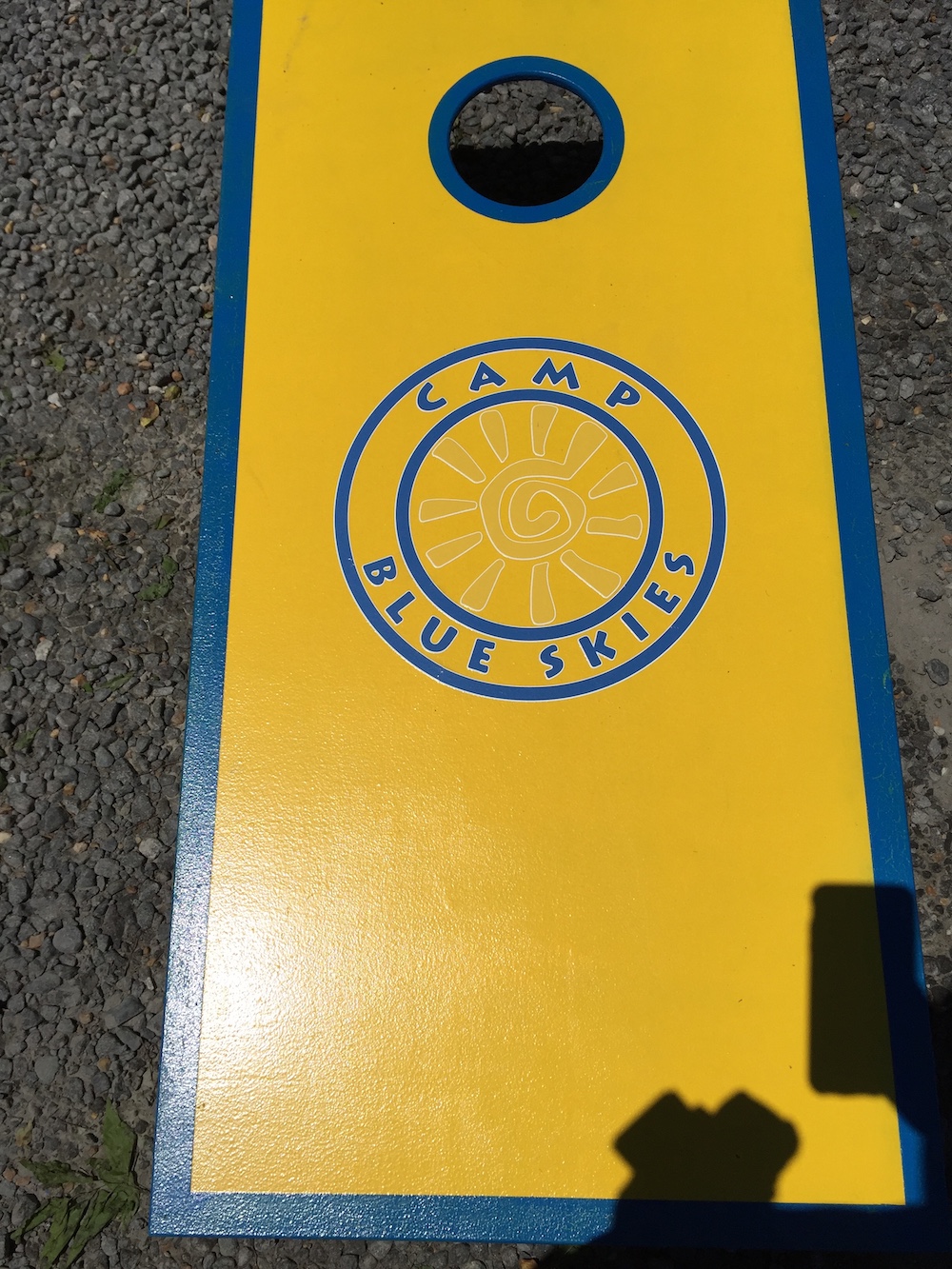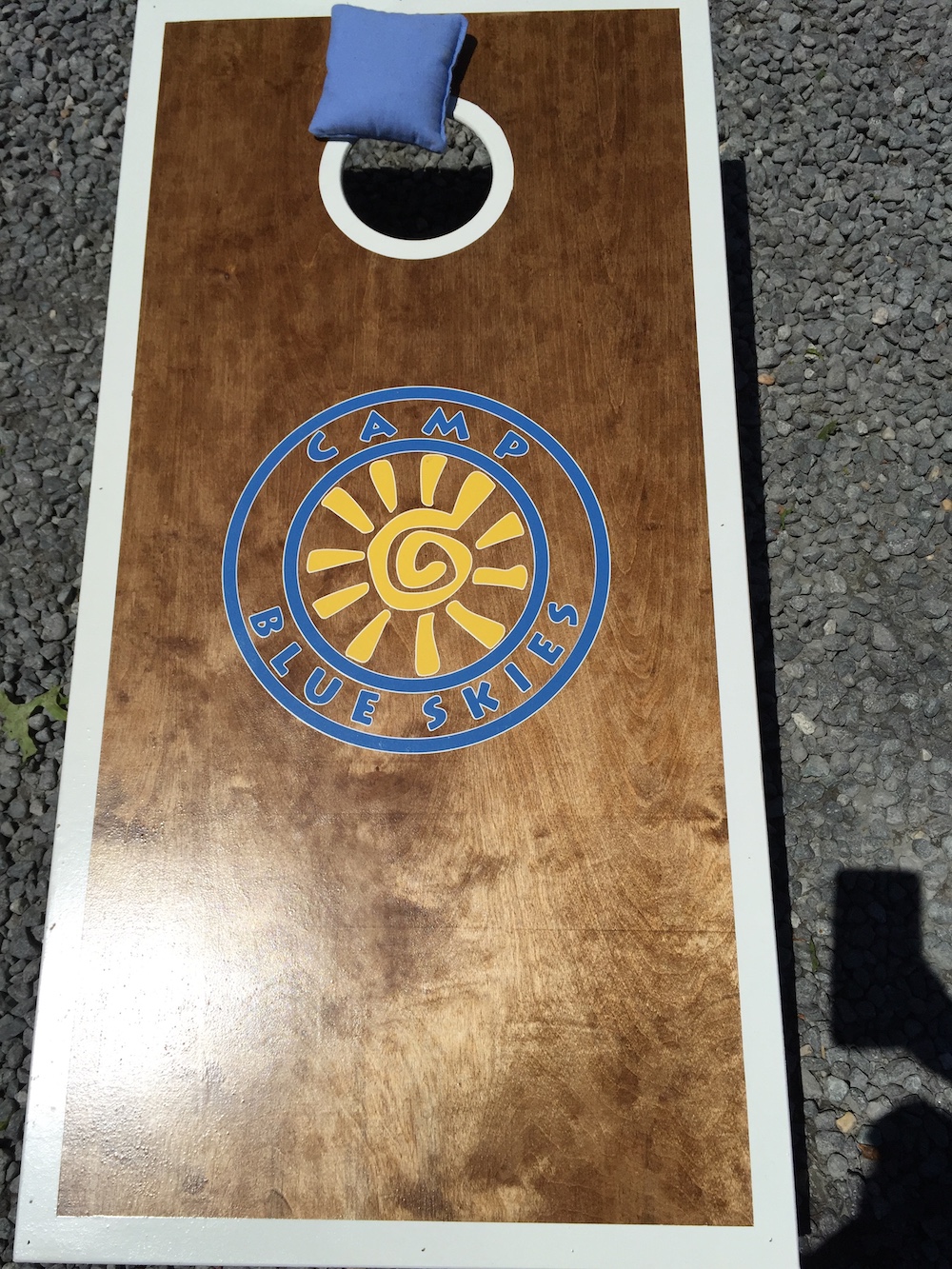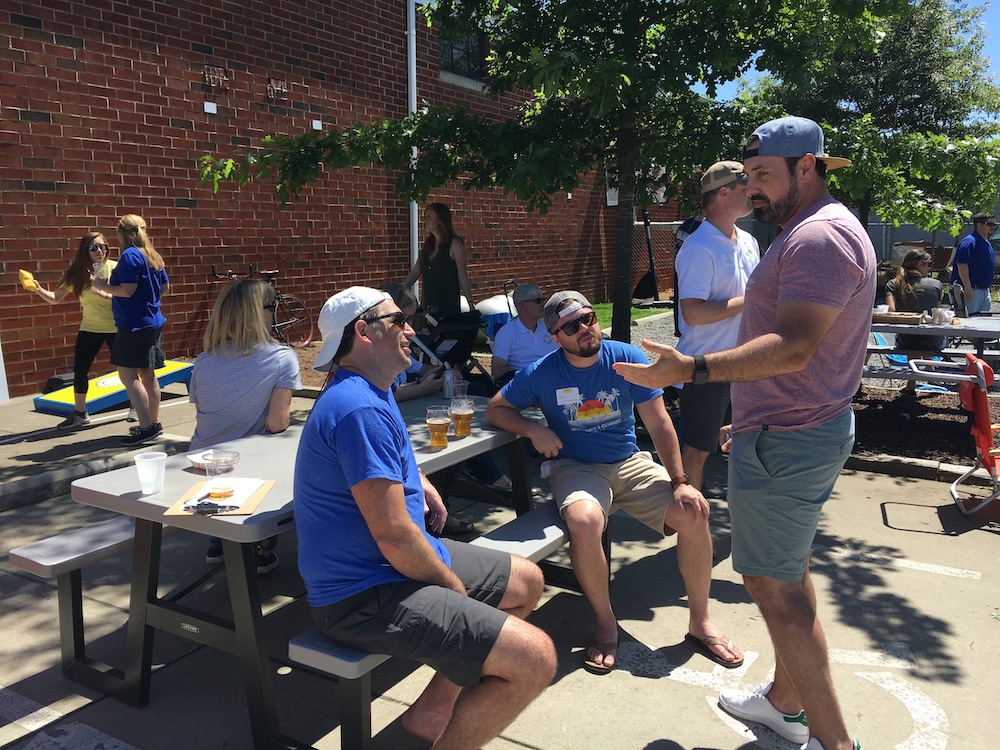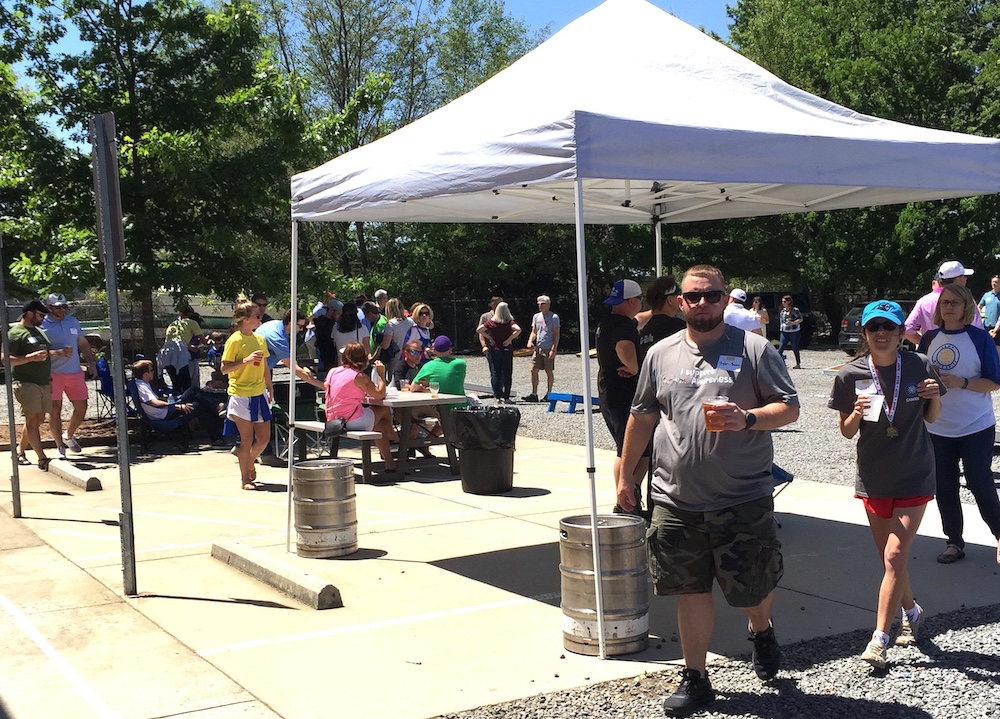 Among the other highlights:
Five campers played in an exhibition before the tournament started at 1 p.m. Participants included Brent Sesler, Brandon Burrows, Greyson Riehm, James Wood, and Sarah Hibbits (also played in the tournament). They received a medal and special recognition.

Jon Beall, event chair and a long-time volunteer, made eight custom Camp Blue Skies boards for the tourney. Jon also serves on the Camp Blue Skies Foundation Board of Directors.

DJ McStevie C provided good tunes and kept the crowd engaged, especially during the Long Toss contest.

The Caped Crusaders 4 Cures, a group of "superheroes" who raise money to fight cancer and other good causes, returned and brought superhero gear for others to wear.

Attendees shopped at a pop-up Camp Store and picked up some Camp Blue Skies gear.

Most creative technique: Collin Wade, another long-time volunteer, played with his 8-month-old daughter Sutton in a backpack carrier while Harper, his daughter, helped keep track of the cornhole bags.
We added a raffle this year as a part of the fundraiser. The winners:
Special thanks to Mary Tinkey, our director of events, and the Cornhole For Camp planning committee with Jon: Tyler Carey, Amanda Carver, Patrick Connelly, Bobby Edwards, Brent Gribble, Jim McDermott, Cristy Nine, and Hollis Nixon.
Interested in getting involved next year? Email Mary@CampBlueSkies.org.
Thanks to our
2019 Sponsors
Title Sponsors