WeWork members in uptown Charlotte to compete in Hoops For Camp fundraiser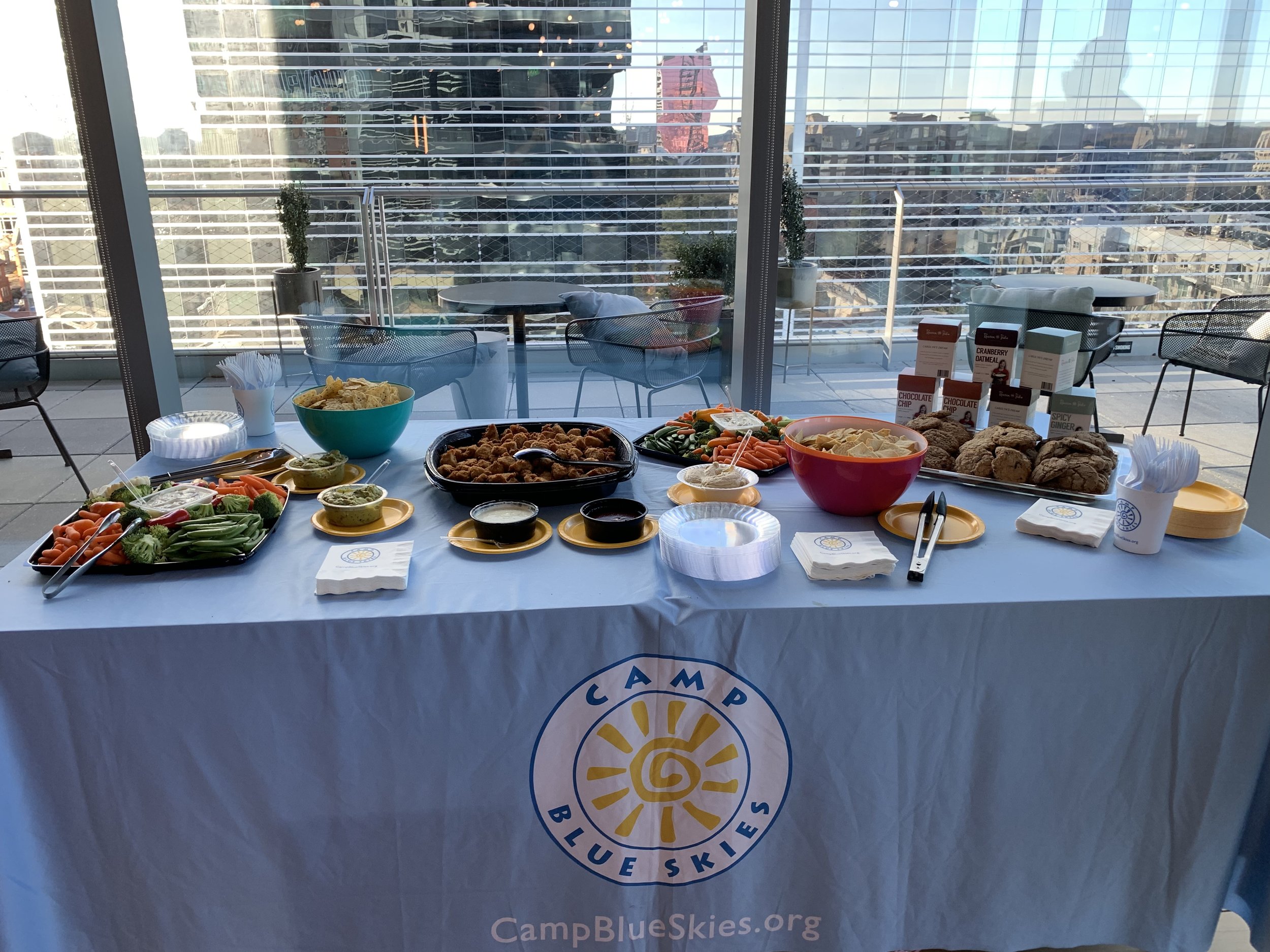 Camp Blue Skies is partnering with WeWork in Charlotte for a special Hoops For Camp NCAA Bracket Challenge fundraiser this year.
Hoops For Camp is an annual online fundraiser that supports our life-changing camps for adults with developmental disabilities.
WeWork members and their friends can compete in the WeHoops League for great prizes – including a cool trophy – and bragging rights for the next year. WeWork, with three locations in Charlotte, is an international company that provides shared workspaces and services for entrepreneurs, freelancers, startups, small businesses, and large enterprises.
On March 6, Camp Blue Skies team members, volunteer Russ Case, and campers Kelly Case and Brandon Burrows met with WeWork members and friends for a kick-off celebration in the 9th Floor Common Space at WeWork, 615 S. College St.
"The energy among the members and the workspaces at WeWork are amazing," says Camp Blue Skies founder Dick Sesler. "We are grateful that they're interested in supporting camps for adults with developmental disabilities."
The grand prize in the "WeHoops" League is a super-cool trophy, a $100 Topgolf gift certificate, and a Camp Blue Skies hat. And bragging rights. For a year. Also, all participants will be entered in a raffle for a $300 gift certificate for Jimmy Buffet's Margaritaville Island Reserve clothing redeemable at Bruce Julian Clothier. Special thanks to Woody Appleby, stepfather of camper Brandon Burrows, for donating the Island Reserve clothing and accessories.
Camp Blue Skies will host its own league for teams and individuals. Prizes this year for the Camp Blue Skies league:
First Place: $500 Visa gift card

Second Place: $300 Visa gift card

Third Place: $100 Visa gift card
Interest in joining the Camp Blue Skies League? You can donate $25 and register to play at at CampBlueSkies.org/hoops. The NCAA Men's Basketball brackets open Sunday, March 17. You can sign up to play through noon March 21.
Want to host a league for your workplace or have a question about the Camp Blue Skies League? Email Mary Tinkey, Mary@CampBlueSkies.org.