Details for 2020
When: March 16-20
CAMPER APPLICATIONS
Open: Nov. 15, 9 a.m. Eastern. Apply early! A wait list will be established if needed.
Deadline: Jan. 31
Where: Camp Twin Lakes, 1391 Keencheefoonee Road, Rutledge, GA 30663
Cost: $375, which covers five days of camp, four nights of lodging, all meals and snacks, activities and a T-shirt. This amount covers only a portion of our cost. Camp Blue Skies strives to make camp available to all eligible campers. If you are concerned about being able to cover the camp tuition fee, please contact Dick Sesler at (704) 236-7902 or Dick@CampBlueSkies.org for more information on how we can work with you to make it more affordable.
ABOUT CAMP TWIN LAKES
Camp Twin Lakes, established in 1993, collaborates with over 40 different organizations — including Camp Blue Skies — to create customized programs that teach campers to overcome obstacles and grow in their confidence and capabilities. Camp Twin Lakes is accredited by the American Camp Association.
The facilities at Camp Twin Lakes in Rutledge include climate-controlled cabins with bathrooms, in addition to a gymnasium, outdoor amphitheater, campfire circle, treehouse, dining hall (capacity of 400), teaching kitchen, arts/crafts room and ceramics room.
Each camp session's activity schedule depends on the time of year, weather, number of campers, etc. Activities may include baseball, soccer, tennis, miniature golf, paddleboats, fishing, waterfront activities, ropes course, nature walk, arts and crafts, drumming.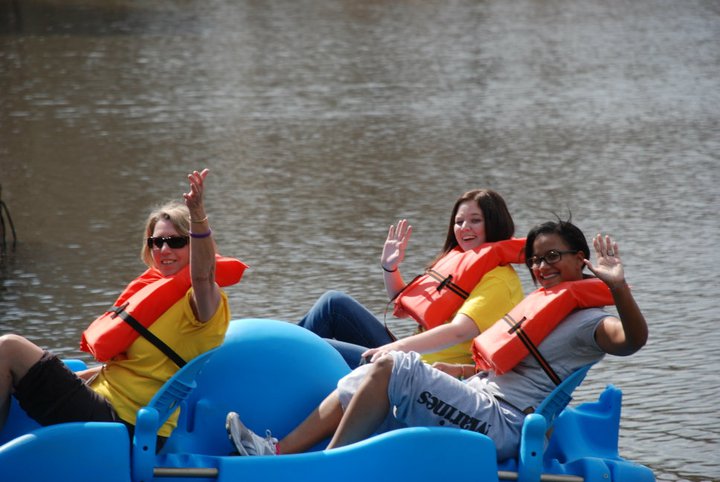 SEND A CAMPER TO CAMP
The camp fee is a fraction of the actual cost for each camper to attend. Please consider a contribution to help bridge this financial gap. It is through generous donations we are able to offer the Camp Blue Skies experience to these deserving adults.