Volunteer with Camp Blue Skies
Camp Blue Skies volunteers support all aspects of the camp experience and are the key to our success. You'll easily recognize our volunteers in photos from camp: They wear yellow shirts to make them easily identifiable. To volunteer, contact Alison Barry at Alison@CampBlueSkies.org.
Expectations
Commit to the entire week if possible to be a cabin counselor, a nurse or one of the options below.

Participate in camper/volunteer "social" event prior to camp (if possible)

Remain camper-focused while at camp

Participate in activities with campers

Camp policy requires at least two volunteers to be with campers at all times

Have a lot of fun!
OPTIONS
Experienced Caregiver
or "HEP" ("Has Experience with Population")
Full-session volunteer: Every cabin has at least one HEP. In addition to the experienced caregiver, cabins typically include 5-7 campers and 1-2 cabin counselors. HEPs are responsible for the overall welfare and supervision of their cabin unit, ensure that safety procedures are followed at all times, and oversee cabin activities. HEPs participate in cabin life with campers and fellow counselors and provide support to campers throughout the day during activities and programs. HEPs also work with the camp nurses to ensure that medications are taken as directed and that diet restrictions are observed. Experience in the care of individuals with developmental disabilities required.
Cabin Counselor
Full-session volunteer: Cabin counselors are community volunteers that will be at camp for the full session and stay with campers in the cabin. Two counselors are assigned per cabin group. Counselors work with a team of volunteers to provide daily supervision to a small group of campers. Counselors participate in cabin life with campers and fellow counselors and provide support to campers throughout the day during activities and programs. No experience in camping or the care of individuals with developmental disabilities required.
Program Instructor
Full session (preferred) or partial session volunteer: Most recreational activities will be lead by Camp Blue Skies staff or the host camp staff. However, we welcome volunteers with special skills and experience who wish to lead recreational or life skills activities. Program Instructors will teach approximately five 2-hour lessons per camp session. No more than 12-14 campers will participate in each class. Assistant Program Instructors, Counselors and Day Volunteers will provide support. Teaching supplies and facilities will be provided by camp. Experience in teaching life skills or camp activities required.
Program AssistanT
Full session or partial session volunteer: Program Instructors will lead camp activities, but volunteer assistance is greatly appreciated. Program Assistants will be assigned to a specific activity and support the Activity Instructor each day throughout the week.
Medical Volunteers
Full session preferred: Registered nurses work in conjunction with the the Health Services Director to attend to the medical needs of the campers and staff. A Physician will either be on site or on call during the camp session. Medical volunteers will triage and treat accidents, illnesses and emergencies, distribute prescribed medications to campers and complete the necessary documentation. Medical qualifications required.
Day Volunteers
Single-day or multi-day volunteer: Day volunteers will work in one of two capacities, either assigned to a cabin group or a camp activity. Day volunteers who wish to volunteer multiple days and stay overnight will most likely stay in a "staff cabin."
Cabin group volunteers are assigned to a group of campers and will accompany them through the day, following the group's schedule.

Activity volunteers are assigned to a specific life skills or recreational activity to assist the Activity Instructor throughout the day. These volunteers stay with the assigned activity while the various campers groups rotate through during the day's schedule.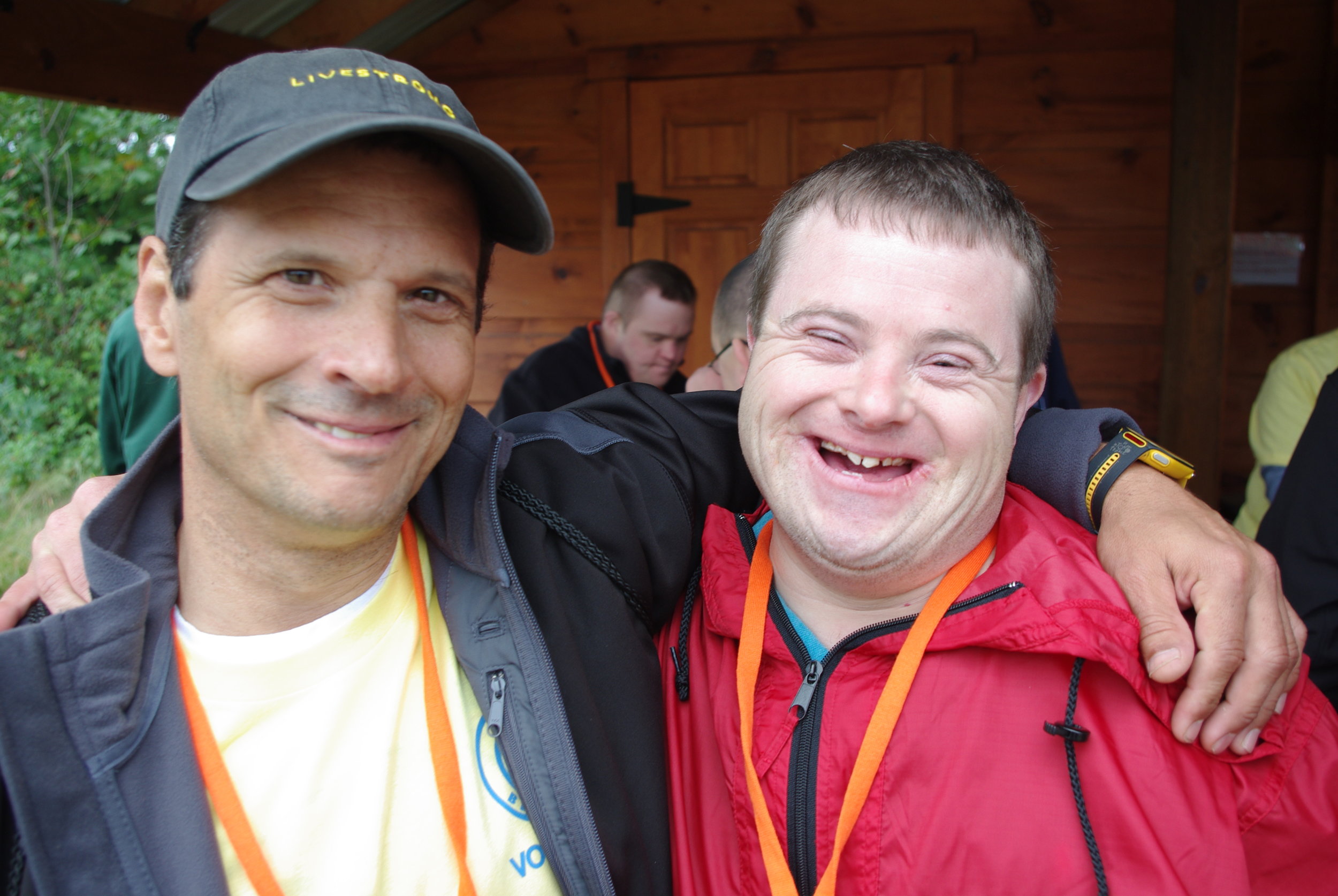 What happens after i apply to volunteer
Initial contact/online application: When a volunteer contacts Camp Blue Skies via email or via phone, a staff member will follow up within a week to discuss the different volunteer roles, identify which role is of greatest interest, and review expectations. If our camp seems to be a good fit, the volunteer will be encouraged to apply online for the session they want to attend. Volunteers are also welcome to apply online prior to talking with a staff person. Once the application is received, if the volunteer hasn't already been in touch with CBS, a CBS staff person (likely the Volunteer Director/Coordinator for that camp session) will reach out to confirm their volunteer role, expectations, answer questions, etc.
References for new volunteers: For the safety of our campers and volunteers, if the volunteer is new to Camp Blue Skies, the applicant will be asked to provide two or three references. This is simply to make sure that Camp Blue Skies is a good fit for the applicant. The references are asked to have a phone conversation with the CBS Volunteer Director/Coordinator. No forms or letters of recommendation are necessary.
Required forms: Once the role of the volunteer has been established, and references have been checked, the last step for volunteers is completing their forms. There are three required forms to attend camp: Health/Emergency form, Liability Release/Consent to Treat, and Requirements Confirmation.
Preparation: Emails will be sent before camp, including a Volunteer Handbook that describes what to expect at camp, our campers, the facilities, sample schedule, what to bring to camp, how to get to camp. Reminders will be sent before camp, confirming the arrival/departure times of volunteers, their roles at camp, the group they will be in, etc.
Training Video
All volunteers are required to complete our Online Volunteer Training. This video provides information about Camp Blue Skies, our camper population, what to expect and how to effectively interact with our campers at camp.
volunteer Support
Health Services team is on site to handle accidents, illnesses and emergencies.

Camp Blue Skies staff is responsible for planning/implementing all activities.
VOLUNTEER FAQs
For more information about daily life at camp, please see general FAQs.
What are the facilities at camp like? Camp Blue Skies provides a traditional experience in a comfortable, accessible setting. All cabins are heated and air-conditioned. Cabins have bunk beds and an attached bathroom area with multiple showers, sinks, and toilets.
What does a typical day at camp look like?
Morning/Afternoon: Campers will participate in group activities. Recreational activities may include high ropes course, basketball, soccer, bocce, nature walks, canoeing, fishing, arts/crafts, dance, etc. Life skills activities – with the emphasis on greater personal independence – may include healthy eating classes and good nutritional decision-making, fitness, stretching and exercise, and arts and crafts.

Evening: All of the campers will have an opportunity to explore their artistic talents and improve their social skills. Activities include dancing, music and singing, skits, board games, variety shows and camp fire with story-telling and s'mores.
How old do I have to be to be a counselor? Since our campers are adults (21 years and older), counselors must be at least 21 years old.
What is the alcohol and tobacco policy of the camp? Alcohol is not allowed. Smoking and other uses of tobacco are not permitted.
Will I be left alone with my campers? No. Counselors will work in groups. Groups will typically be comprised of two cabins, which is approximately two counselors and 12-14 campers.
Will I have free time? Yes. Since counselors are working in groups, if you need to take a break or have a specific time you need to get away, you will have others to back you up. We will also have "Floater Volunteers" who can watch campers while you are away.
Do I need experience as a counselor or with developmentally disabled adults? No experience is necessary. Each cabin will have at least one counselor who has extensive experience with our population. Otherwise, you just need to have a caring, patient and enthusiastic personality and focus on the campers.
As a camp counselor, will I have to be an activity instructor? No. Camp Blue Skies instructors will lead the activities. Volunteers will simply participate with and assist campers as needed during each activity. You are a guide and helper. However, if you have experience in teaching activities or would like to assist with a particular activity, please indicate that on your application.
Will there be any training prior to arrival at camp? Yes, all volunteers are required to view the online volunteer training video and read the volunteer handbook before coming to camp. All weeklong volunteers are also required to attend our Volunteer Orientation before campers arrive.
I can't make it to camp as a volunteer. Are there opportunities throughout the year? Yes! Some of the opportunities include being an extra set of hands at an event and special projects. For more information about volunteering, for our Georgia camps: email Kristen Hill and for our North Carolina camps, contact Alison Barry.
Ready to volunteer? Click here for online application!